post water consumption this morning, the scale read 122.6.
today, i had a glass of soy milk for breakfast and then went on an hour long run.
lunch: diet pills and a salad with cheese crumbles and red sauce
dinner: seven pieces of sushi
dinner II: peas on top of salad with cheese crumbles and nonfat yogurt and red sauce and salsa.
dessert: 1 clif nectar
drinks: two diet cokes
2 L water
1 screwdriver
1 hard hot chocolate
still under 1000 i think. at least in food. the drink shoot me way over the top. lots of negative cals today too though. not so bad. not so bad.
not bad. but not good enough by long shot. i have too much to do too soon. run to school. buy necessities. go to gym for abs. run home. shower. go out with friends.
i don't think i'm going to eat anything tomorrow. i won't need to.
if i feel really weak after the gym, i can make some more green peas. or drink a latte. i have about three weeks to lose as much weight as i can. at least when school starts, i'll be too tired, too busy, or too stressed to eat. i can take out the stress of studying and sleep deprivation on the eliptical machine instead.
skinny models thinspo: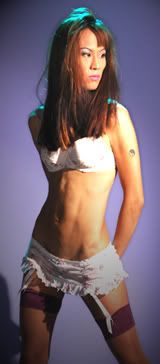 such good angie pictures!!